Meet the D7XX Family
The professional D7XX Series telephones are both aesthetically appealing and highly practical, meeting business requirements when the telephone is a key tool in daily work. These high performance devices are future proofed and provide the best in Wideband HD audio, ensuring crystal clear sound quality. They are Bluetooth compatible to meet the connectivity requirements of today's offices.
Snom D785 Color SIP IP Phone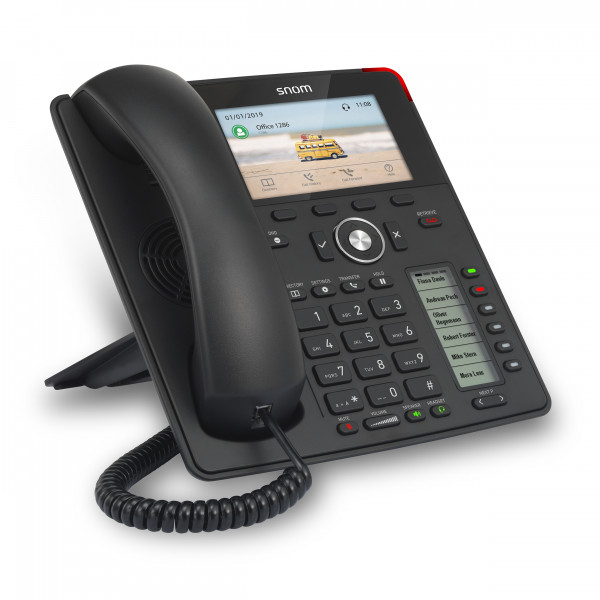 Part of Snom's D7xx Series, the Snom D785 features a 4.3-inch color LCD display with a second 300x100 LCD display on the bottom right corner that allows the user to set up to 24 programmable function keys (6 per page, 4 pages). The D785 comes with integrated Bluetooth support for headsets and with a USB port for optional Wi-Fi/DECT or storage support. With Power over Ethernet (PoE) and optional power adaptor sold separately, you can be flexible with your implementation.
Snom D735 SIP Desk Phone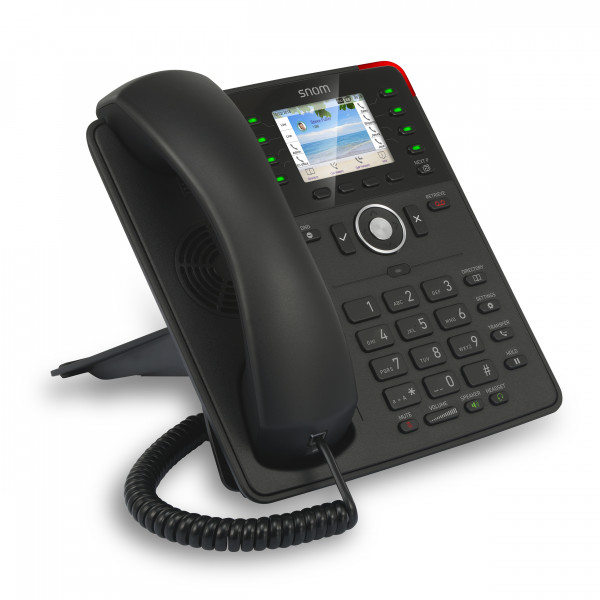 The Snom D735 features an elegant design that boasts a high resolution 2.7 color display and eight multicolored function keys. HD Audio and a gigabit switch are just some of the standard features of this desk phone. With upgraded firmware users can now forward calls at the touch of a button, start conference calls and/or mute the desk phone temporarily.
Snom D717 VoIP Phone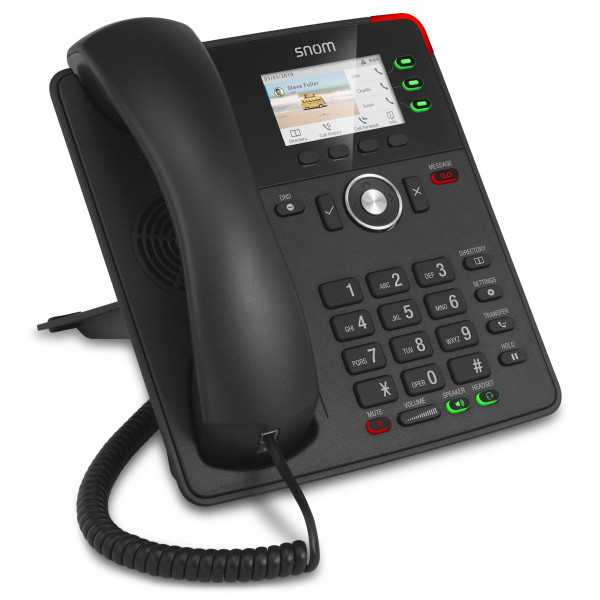 The D717 SIP Color Deskset supports Opus codec providing crystal-clear audio or high-quality narrowband audio. Zero touch provisioning, a 2.8-inch color display, Power over Ethernet (PoE) and a USB port make the D717 a top contestant on your list of entry-level phones. In addition, the D717 has three programmable feature keys, four soft keys, and 14 dedicated feature keys.
Snom D120 entry-level Desk Telephone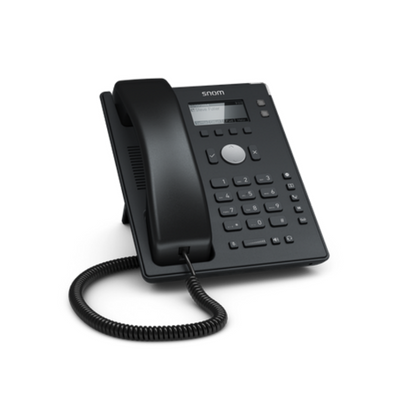 The D120 has a large backlit display with superb audio quality. It features a straightforward design with ease-of-use and special keys and features. The D710 can be powered via PoE (Power over Ethernet) and has very low power consumption requirements. The D120 is hearing aid compatible (HAC), is equipped with its own specially adapted firmware, and is compatible with Snom's redirection services.
Snom C620 DECT Conference Phone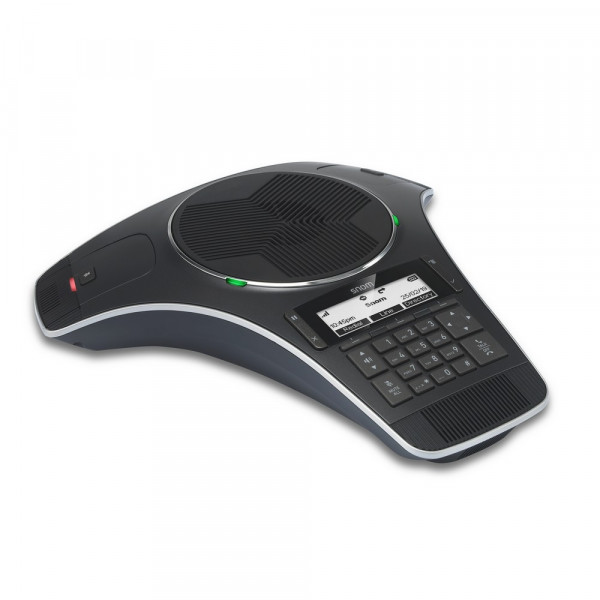 The C620 has been designed for users who need a powerful solution for conference calls that can be made from anywhere in the office. The C620 is completely wireless and can be placed anywhere in a room for complete freedom of placement- no cords. The C620 has two wireless mics that can also be placed anywhere in the room. To charge the wireless mics, simply place them in the phone's built-in charging bays and they will be ready for the next call! The C620 is great for small to medium conference rooms, but if you need to make room for larger conference rooms, it is easy to add the accessory C52-SP DECT expansion microphones. This will allow you to add more call participants and spread out across a room with the ability to hear and be heard.
Snom D7 Expansion Module
An expansion module provides users who experience high call coverage with greater flexibility and increased productivity. The D7 expansion module enhances the 700 series by adding 18 programmable keys with LEDs to deliver features such as line, speed dial, busy lamp field and presence indication.
The high-resolution display provides a visual interface. The D7 connects to the telephone using a USB cable, and up to 3 expansion modules can be daisy chained to add 54 function keys. The final D7 in the chain provides a USB port to connect other peripheral devices such as a USB headset. When more than one D7 is used with a telephone, additional external power is needed.
The Snom D7 boasts a high-resolution black and white display with backlight and is powered via the connected Snom VoIP phone.
Snom D7C Expansion Module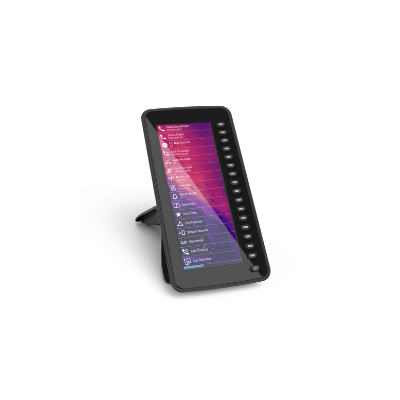 The Snom D7C color expansion module is for the user who needs quick acess speed dials and busy lamp fields in order to be as productive and effective as possible throughout the day. The D7C has 16 keys per eacg page (three pages) and users who have lots of contacts in their directory can daisy chain up to 3 D7C Expansion Modules for a total of 144 programmable LED keys. The D7C expansion module is plug-and-play and is easily connected via a USB calble to your D7xx series desk phone.
Snom Enhanced Wireless Headset Adapter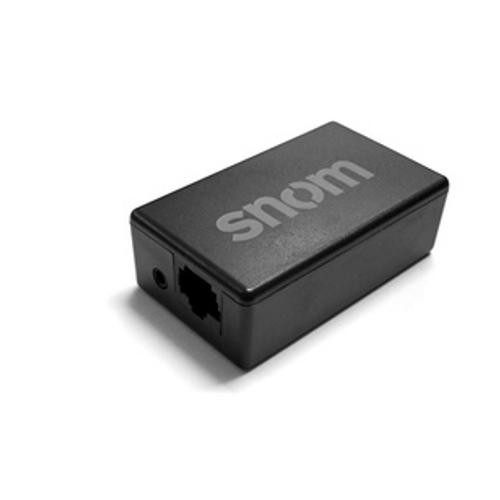 In addition to the corded snom headsets, wireless headsets are very popular in professional business environments like, for example, call centers. The snom Headset Adapter, for the control of wireless headsets is the bridge between professional VoIP telephony and professional wireless headsets. The snom Headset Adapter has an EHS interface conforming to vendor specific as well as the DHSG standard which enables the electronic reception of calls on the headset itself. When the phone receives an incoming call the original ringing tone is signaled in the headset and the call can be answered and terminated on the headset. The snom Headset Adapter has been constructed specifically for the snom 320, 360, 370, 720, 760, 820, and 821 phones. This adapter also ships with a secondary fitter to fit the 870 phones. Most* EHS cords are now included with this item.
TO SEE A LIST OF HEADSETS THAT ARE SUPPORTED BY SNOM CLICK HERE
Price: $65.00


Snom 10W PSU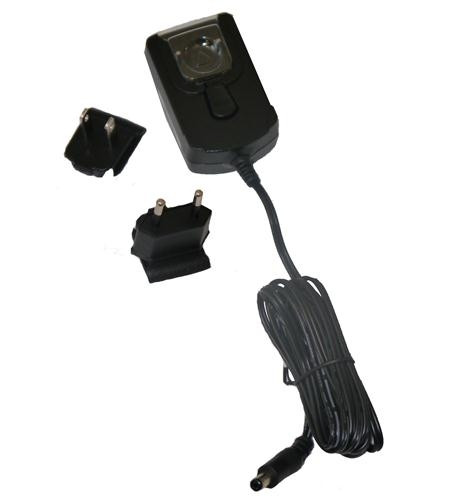 For Snom D-Series Desk Telephones and PA1 (4326), replaces snom 2730
Price: $15.00